Three Colors: White, the second in the Three Colors trilogy, is Krzysztof Kieslowski's story about immigration, personal character, and success in business and of the mind. But it is in its more intimate setting, that of love and loss, that White finds its meaning. It may not all add up as well as the other two films in the trilogy, but it is still a great portrait of a man who is in need of personal discovery.
Julie Delpy stars as Dominique, a French woman divorcing her Polish immigrant husband, Karol Karol (Zbigniew Zamachowski). He speaks very little French and has an issue with impotence. As their marriage dissolves, they are almost like strangers: his love for her is one-sided and boyish as she tells him in a language he does not understand that she does not love him any longer. And so he decides to return to his home country.
Karol is put through harrowing cruelty after harrowing cruelty, never an ounce of decency thrown his way. His wife doesn't respect him, committing arson to get rid of him after the divorce (she also publicly humiliates him) and makes him listen to her talk with another man over the phone. He has no money nor passport, and so his new friendships him back to his homeland in a trunk. He arrives at a landfill, only to have his trunk unlocked by strangers who beat him. After a while,  this character is worn down to a nub, and it is a little disheartening to watch him denigrated time and time again.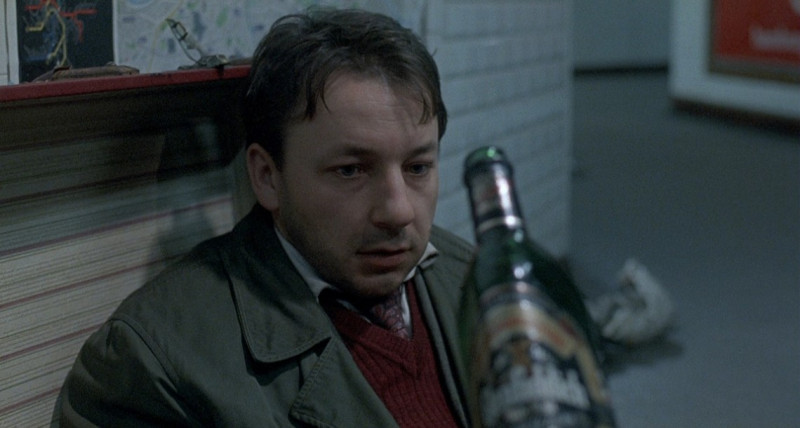 Eventually, however, he builds something that is entirely his own and becomes a prosperous and clever man in his own right. The way in which the third act plays out is cathartic for Karol but will leave you unsure of who is cruel, and who is capable of humanity.
Zamachowski plays Karol with a tender care, his wounded glances and heartbreak making his performance affecting and difficult. Julie Delpy, while not in the film for as long, is playful in her cruelty, almost like she's having fun. Janusz Gajos as Mikolaj, Karol's friend, is exceptional; his knowing smiles and deadpan stares create a character that is fascinating to watch. There is a depth to him that is hidden among Karol's story but is a standout nonetheless.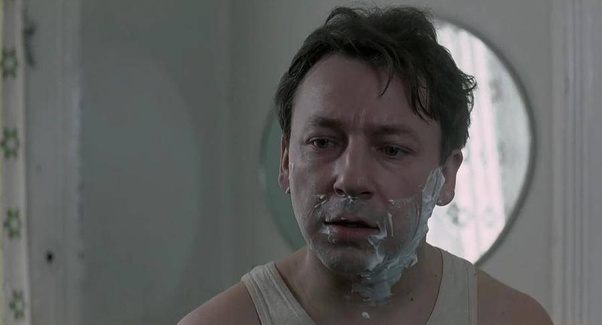 The idea of language is a theme in White, as is the color itself. Whether it is the bust of a woman in the store Karol passes and later owns, in the foreground of his apartment and various living spaces, the color of the clothes Karol wears, or the first thing he is surrounded by upon exiting the suitcase in winter, white is in every frame. It is especially noticeable in the color of Dominique's wedding dress, as a blinding white light comes down during a POV shot of her turning toward Karol and smiling. But it is in the flag of France where the white is most important. There it is the symbol of fairness and equality, qualities Karol is never treated with until he decides to take charge of his own fate. It is in emotional equality that Karol finds meaning during the destruction and rebirth of his character.
While White may not be the strongest of the trilogy, it is still a worthwhile journey into the hearts of a man and woman desperately distant, and the lengths one would go to prove themselves worthy, not only to another person but to themselves. Karol's journey from schlub to businessman to schemer is a troublesome one, but it gives him the drive to become what he always meant to be, even if that may not always be a good thing.