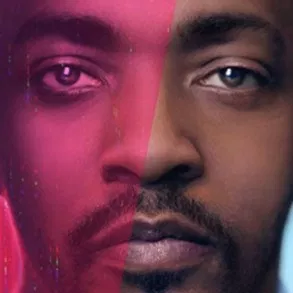 In episode one of the first season of Black Mirror, a particularly devious troll blackmails the prime minister into having sex with a pig— and broadcasted for all to see. Season 5 of the sci-fi anthology series does not set its sights on such polarization. In fact, the season as a whole feels less self-serious than some of its predecessors. Series creator Charlie Brooker has infused the latest installment with more comedy this time around. Favoring self-conscious jokes and wry dialogue over the high-octane thrills (White Bear, Crocodile, Metalhead) that have often punctuated the show, the new season relies more on dark comedy than on jump scares to deliver its morals.
The first episode of season 5, Striking Vipers is the most somber of the three, a drama-filled journey through virtual reality. In it, two friends, played by Anthony Mackie and Yahya Abdul-Mateen II, test out their friendship through Virtual Reality gaming. Set in a near future — as familiar to us in 2019, but equipped with talking dishwashers and touch screen phones that can actually flip like a  Motorola Razr— it feels more like a typical, straightforward Black Mirror episode. As Striking Vipers ends up posing probing questions about the relative freedom of identity in gaming.
Smithereens, the second episode in the new season, lean into a particular sort of tragic-comedy. Centering on Chris (Andrew Scott), a rideshare driver who kidnaps Jaden (Damson Idris), an intern that he mistakenly identifies as a high-ranking employee at a social media conglomerate called "Smithereens" (it closely resembles Twitter). He demands to get on a call with the CEO Billy Bauer (Topher Grace), or he threatens to kill Jaden. Scott's performance endows the episode with a strong emotional grounding, offering a self-conscious, cynical performativity to the character. Smithereens builds slowly, hooking viewers in as a situation larger than just one person escalates out of control.
Episode three, Rachel, Jack, and Ashley Too, is the most loosely-structured and lighthearted of the three. Following a reluctant pop star Ashley One (Miley Cyrus), whose controlling aunt/manager forces her to promote a doll called Ashley Too, an AI version of herself that her fans can purchase. This episode plays off of Cyrus' role on Hannah Montana, often reminding us of the squeaky-clean image that Cyrus herself would perform for fans. The episode feels unstructured largely because it sets out to explore too many social ills at once. It draws ire, most especially, at faux-empowerment pop built for capitalist gain, but its message is perhaps dulled by its can't-be-tamed story that insists on continuously upping the ante. Its theatrics almost feel like jumping the shark. But Black Mirror is clearly having fun with the episode — as it shows in the mischievous blink in Ashley Too's robotic eyes, or even each pop riff of a Nine Inch Nails song.
One of the most striking features of the new season is that the stories dwell more or less in the present. They do not present dystopian futures, rather, they are stories that will feel remarkably prescient and present. Save for a few nods to the future, the series stands firmly rooted in present time. Black Mirror's latest season is less interested in terror and is instead preoccupied with portraying a unique cultural moment. It is a moment in which, according to the show, technology opens up new possibilities for exploring identity, and where wellness and empowerment have become commodified goods. Most notably, this season is considerably less paranoid, and less politically engaged, than its previously aughts.
Black Mirror has tended to follow in a particular parabolic sci-fi tradition, leaving viewers with a message to chew on. The latest season is no exception. What's different, though, is the form. Season 5 often revels in its ridiculousness — as it is sometimes camp, and is often self-conscious — while still offering up sharp, poignant social satire. Some viewers who are looking for high-powered, dramatic sci-fi might be disappointed with this season, but to others, it will feel like a welcome change. The Handmaid's Tale, for example, has gotten caught in the trap of being too bleak, too horrific, that the all-consuming approach to form dulls the satire. Black Mirror largely avoids that by not taking itself too seriously here. 
★★★
To help us continue to create content, please consider supporting us on Patreon: https://www.patreon.com/filmera.