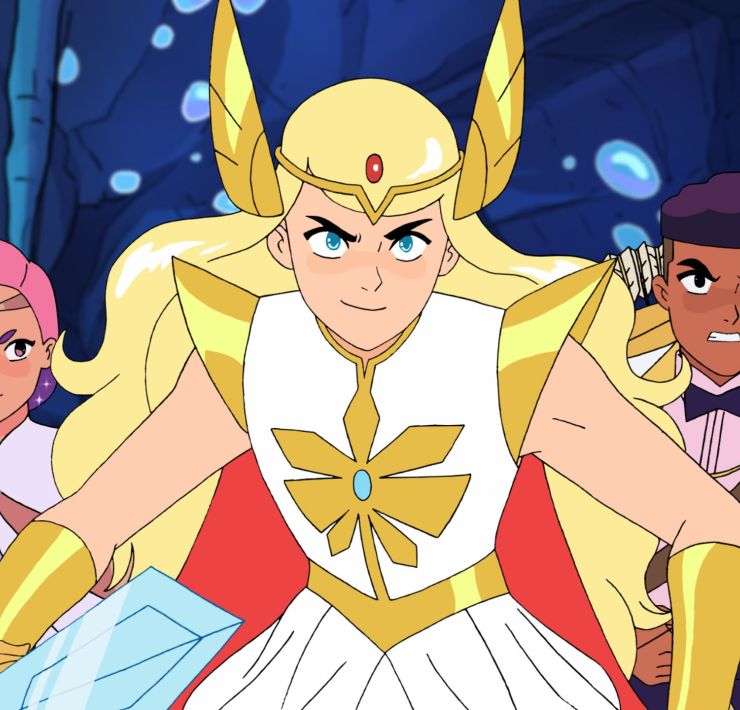 Being a hero is messy. It's a journey full of contradictions, falsities, and pain. Adora (Aimee Carrero), for the first time, is facing the full frustrations of her duty. In the previous seasons, she had mostly focused on learning how to be a hero, how to be good. Now, in She-Ra and the Princesses of Power's fourth season, Adora has to learn how to deal with all of the consequences, trials, and tensions of her role as a hero.
Her confidence is built high and beaten back down within moments. She contends with balancing her protectiveness of her friends and respect for their independence. The fighting never ends, but the emotional poignancy of Adora's journey this season is newly complex. In this season, Adora learns how to be a true hero both as She-Ra and as herself — no sword, no cape, no super-strength. 
Season four, episode one opens on a grieving Glimmer (Karen Fukuhara) being fussed over by her aunt Castaspella (Sandra Oh), who's determined to plan her niece's coronation to perfection. The burden of her mother's passing sinks heavily on Glimmer, who can hardly fathom taking her place after believing so heavily in her immortality. Her friends become determined to protect her from her own sadness, but life doesn't flow so easily. They are different in the face of last season's finale, but they are in many ways the same team and friends we've known.
In many ways, they are stronger than they've ever been before, but threats of impending apocalyptic doom and the loss of a true adult figurehead have certainly complicated things. While Glimmer ascends as Queen of Bright Moon, Catra (AJ Michalka) has in all but title become the leader of the Horde. She runs daily and special operations behind Hordak's (Keston John) back, focusing on her own goals rather than Hordak's unending obsession with Horde Prime. She is entirely unafraid, snapping and growling in every direction including at Hordak. Most of her rage, though, is focused on Adora, which is interesting for someone so adamant that she doesn't care about Adora at all. 
This season's most potent lesson is that good and evil can never be rigidly defined. Some startling revelations reveal characters from both sides as being hugely different from their external projections of self. Quite a few of the show's most central characters have moments of deep emotional change or disparity, a few of them have nearly complete shifts. The cold and ruthless have moments of vulnerability. The loyal feel forsook and moments of betrayal emerge. The meek finally realize what it means to have agency and self-worth. Some, like Shadowweaver (Lorraine Toussaint), become strangely useful and forthcoming.
While we've always known these characters to be whole beings, they are humanized and made complete in a more visceral manner. By extent, this season feels more emotionally intelligent. Not to say that any of the past three seasons were lacking, but this one takes more of a dive into the complexities of emotions and relationships, the meatier stuff that makes us feel, think, and react. All of the princesses in particular experience a wider set of emotions than they've been given in the past. Mermista, Perfuma, and Frosta all display uncertainty and sorrow. The bounds of Glimmer's perkiness are tested as she becomes entrenched in the dullness of day to day decisions, while Adora deals with her own impatience, frustration, and self-doubt as she tries to save the world. 
Saving the world, as it turns out, is a difficult business. The Horde is ceaseless in their attacks on the unconquered bits of Etheria, and their weapons have only continued to become more advanced — not to mention the imminent arrival of the terrifying Horde Prime. The Princess Alliance does manage to make many concrete strides towards saving the planet, but certain things which have been kept secret threaten all of their efforts. Not to mention the fracturing of their leadership as they (particularly Glimmer and Adora) disagree on how best to protect their people.
Glimmer's frustration with being relegated to her 'queenly' duties and Adora's displeasure at Glimmer's newfound alliance with Shadowweaver only pile higher upon their stack of things to be concerned with. Not to mention a bit of meddling by a third party, who aims to see their bond tested to its limit. However, while Adora and Glimmer may disagree with who should do what and go where (as Bow tries his best to heal them) their hearts are always in a heroic, brave place, and they are still the same good, strong, determined characters we've always known, even if stubborn.
She-Ra and the Princesses of Power season four is a wonderful thirteen-episode continuation of the series that manages to breath new life into every aspect of the show (though it maintains its core essence). It is exhilarating to watch this fresh exploration of emotion and behavior, which has created a gateway leading us deeper into each of the characters' minds. All of these crossed boundaries, new vulnerabilities, and heightened dangers certainly make for an incredible season. Adora is an astounding hero, as headstrong as she is sincere, protective as she is independent. She's finally discovered how messy things can be, the truth of life's contradictions, and it is magical to watch.
★★★★★
She-Ra and the Princesses of Power season 4 releases on Netflix November 5th
---
To help us continue to create content, please consider supporting us on Ko-Fi.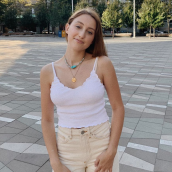 Jenna Kalishman
Jenna Kalishman is a freelance writer and cinephile based in Colorado who often focuses on female and queer perspectives as well as female-led projects. She spends much of her free time listening to Stevie Nicks and re-watching Carol. You can find her on twitter @jenkalish.