Searching for a free websites where you can watch your all-time favorite TV shows online? It's no surprise that you have landed on the right page. Below we have shortlisted some of the fantastic websites that don't charge a single penny for watching a show.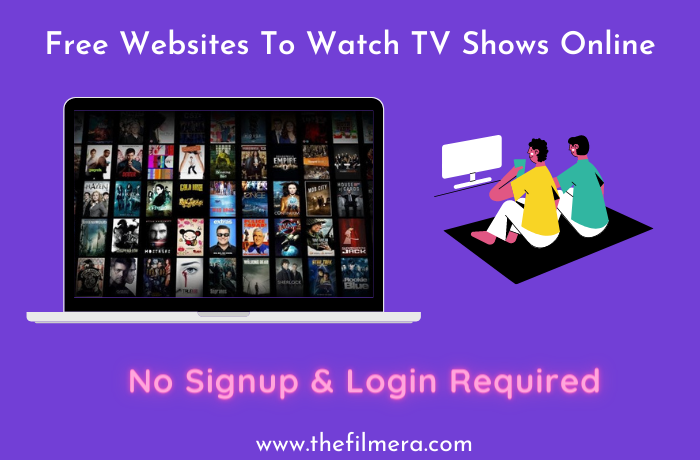 After lockdown, these free websites are emerging as popular entertainment sources. So now you can say "NO" to those expensive subscriptions!
All these sites are legal and don't ask you to download any suspicious Extension. So let's explore how these free websites can be your next favorite spot for watching most-liked tv shows that you can't skip even a single day.
Best Websites To Watch TV Shows Online (2021): Free Streaming
Tubi is one of the popular websites where you can watch varying types of shows free of cost. This online streaming website doesn't ask you for a subscription or download harmful extensions. The Tubi itself claims that the site is free and absolutely legal.
Tubi is an ad-supported streaming service and run by Fox Corporation in America. That's why users can feel fully assured that they are using a reliable source for watching tv shows. From popular drama series to some latest documentaries, you can stream lots of things at one stop.
The site's interface is user-friendly and doesn't take a while to get the list of popular tv shows if you aren't clear what to watch. Although, at the site, you can also find thousands of movies of varying categories- e.g., horror, thriller, comedy, and so on.
At Tubi, you find everything that meets your desires. Undoubtedly it is the perfect place where you must visit to spend quality time with family and friends.
If you want to watch some Indian-based content, then Hotstar is unquestionably the best choice. From popular desi shows, online streaming to movies, you can watch everything at Hotstar. Hotstar TV shows can be accessed through mobile and desktop.
You can download Hotstar Official Mobile App and start streaming your favorite desi shows in the Hindi language. Even though you want to watch your favorite cricket match live, use Hotstar.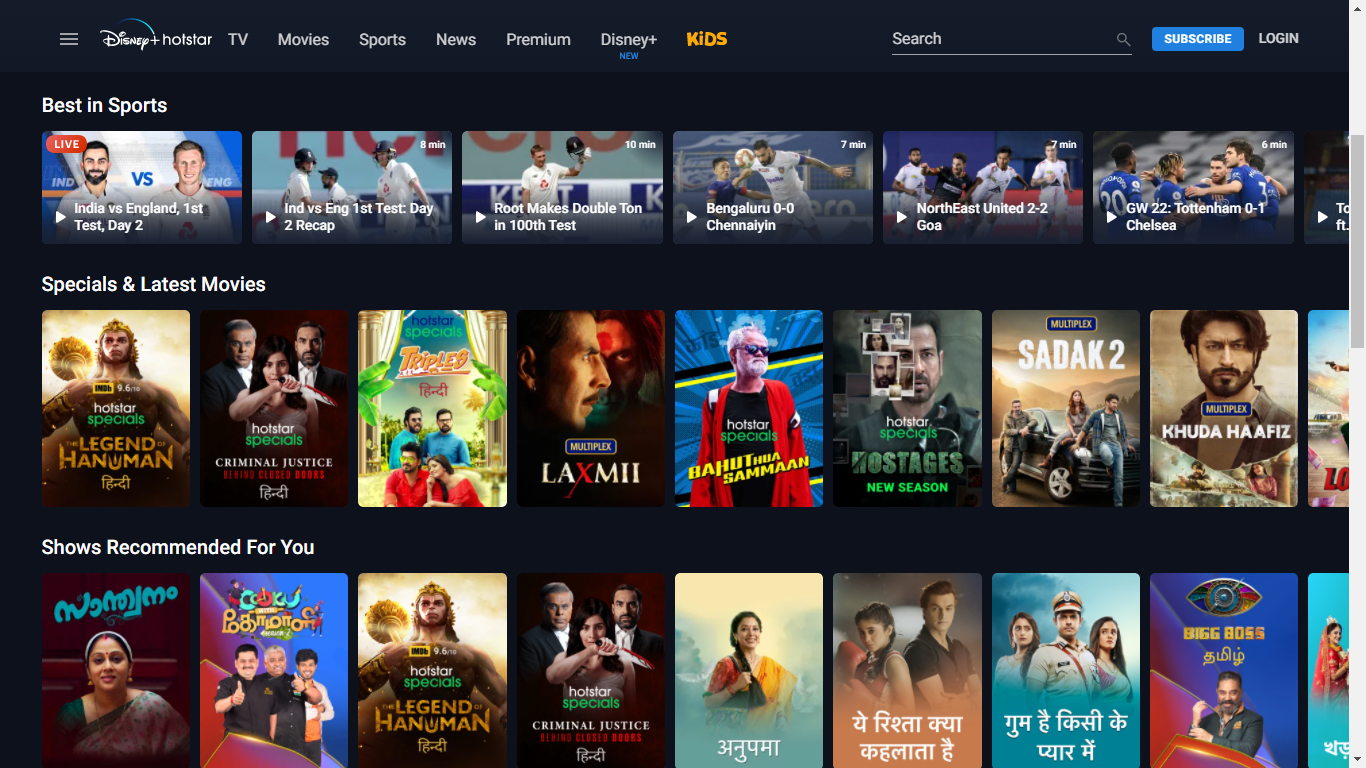 At Hotstar, you can find all the famous Indian channels- e.g., Star Plus, Star Bharat, and so on to shortlist your favorite serial, reality shows, and much more.  Apart from regional shows, you can also stream some educational and exciting content at Foxlife and National Geographic kinds of channels.
You can also purchase the paid plans of Hotstar meanwhile if you genuinely like streaming services by this popular streaming platform.  In the paid plans, you can view more channels and watch blockbuster movies.
Popcornflix is another popular online platform where you can watch TV shows, Movies, and Viral Videos. This online platform doesn't ask you for irritating sign-ups. Just visit the site and start watching whatever appeals to your eyes.
But remember, it is an ad-based platform. Meanwhile, your streaming moment, these ads may frustrate you. That's why you can install an ad-blocker to eliminate this problem. If we talk about the types of content that Popcornflix offers on its online streaming platform, they vary according to users' choice.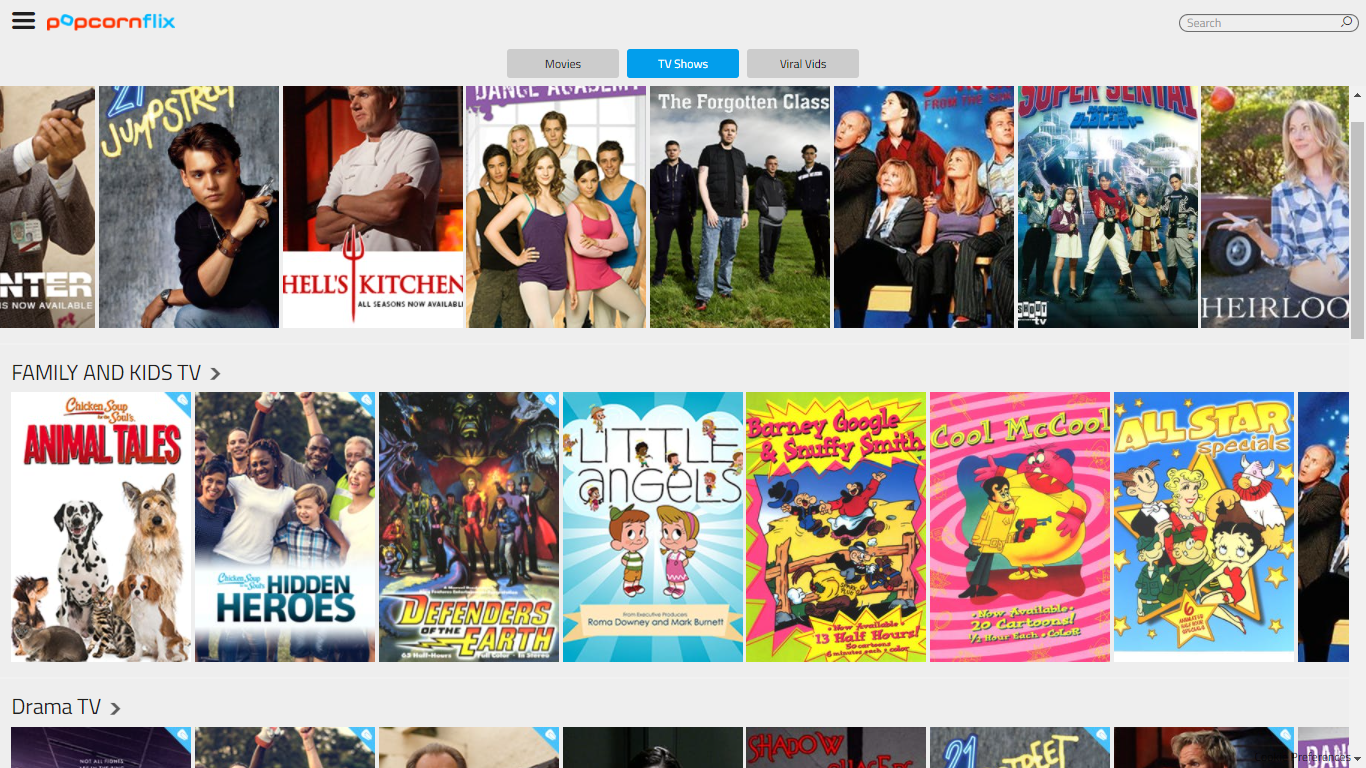 For example- you can choose from numerous genres, including comedy, horror, drama, sci-fi, and watch your favorite content. If you are on the hunt for some 90s movies and shows, Popcornflix can be the best place for you.
At the same time, if we talk about the technical qualities of the website, then the interface is quite user-friendly as Popcornflix runs smoothly on both mobile and web-based platforms.
Crackle is owned by Sony; hence you can call this video streaming platform SonyCrackle as well. It is a reliable and quite popular online platform to stream all-time favorite TV shows free of cost. Even if you are fond of watching anime shows, the Crackle is a hotspot of it.
It's no surprise that Crackle is a wonderful choice when it comes to the best entertainment source. However, you can't use Crackle in a few regions, and the reasons are unclear. Yet if we consider the rest of the features and offerings by Crackle, and altogether, it appears to be the coolest option.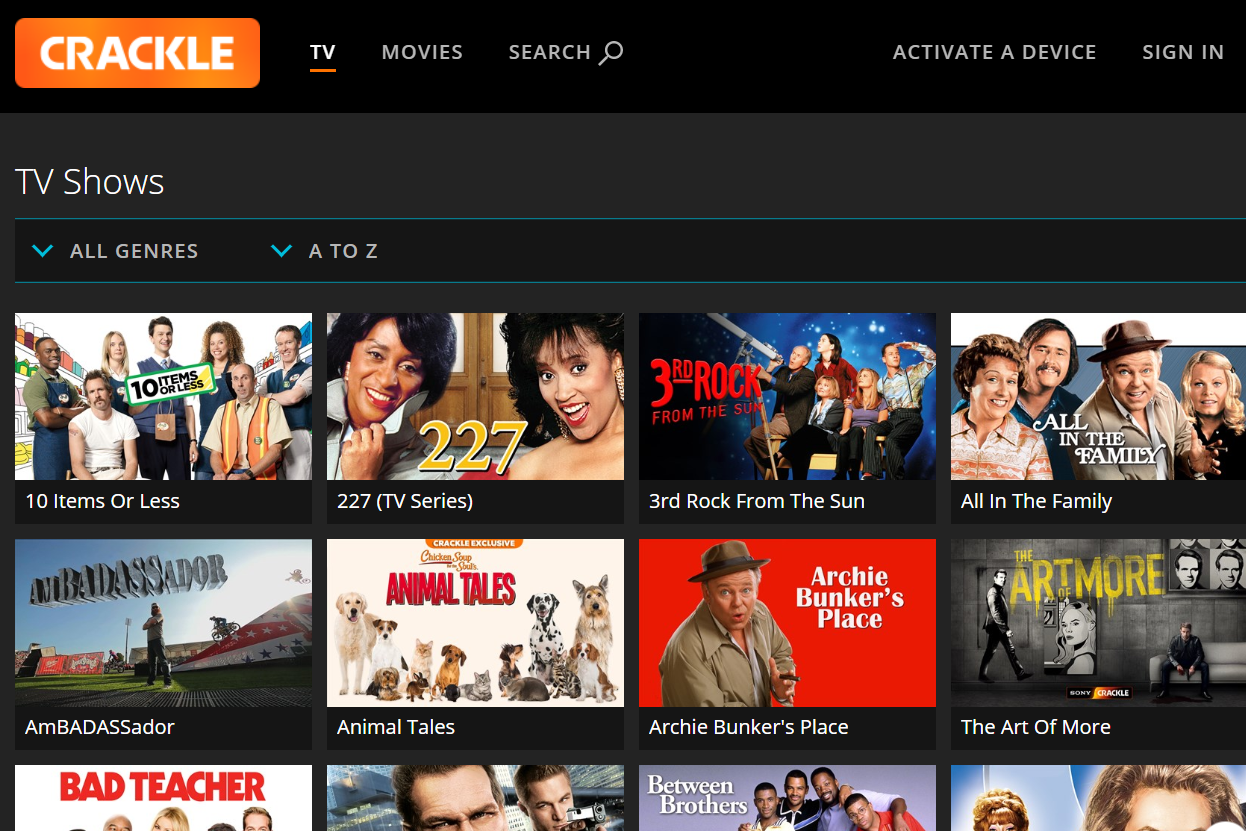 You can choose your favorite content from a broad category. Using the search box, you can explore more content and watch the favorite one free of cost. Apart from the website, you can also install Crackle's official app to watch your content anytime, anywhere. The pop-up ads might irritate you, but it is a fair deal as the platform doesn't ask you for anything in return for its free content offerings.
With 300+ TV shows and innumerable movies, Vudu seems to be a fair choice. After all, when it comes to entertainment, this online website isn't less than its rivals. You can stream lots of exciting content at Vudu and give yourself a perfect streaming experience.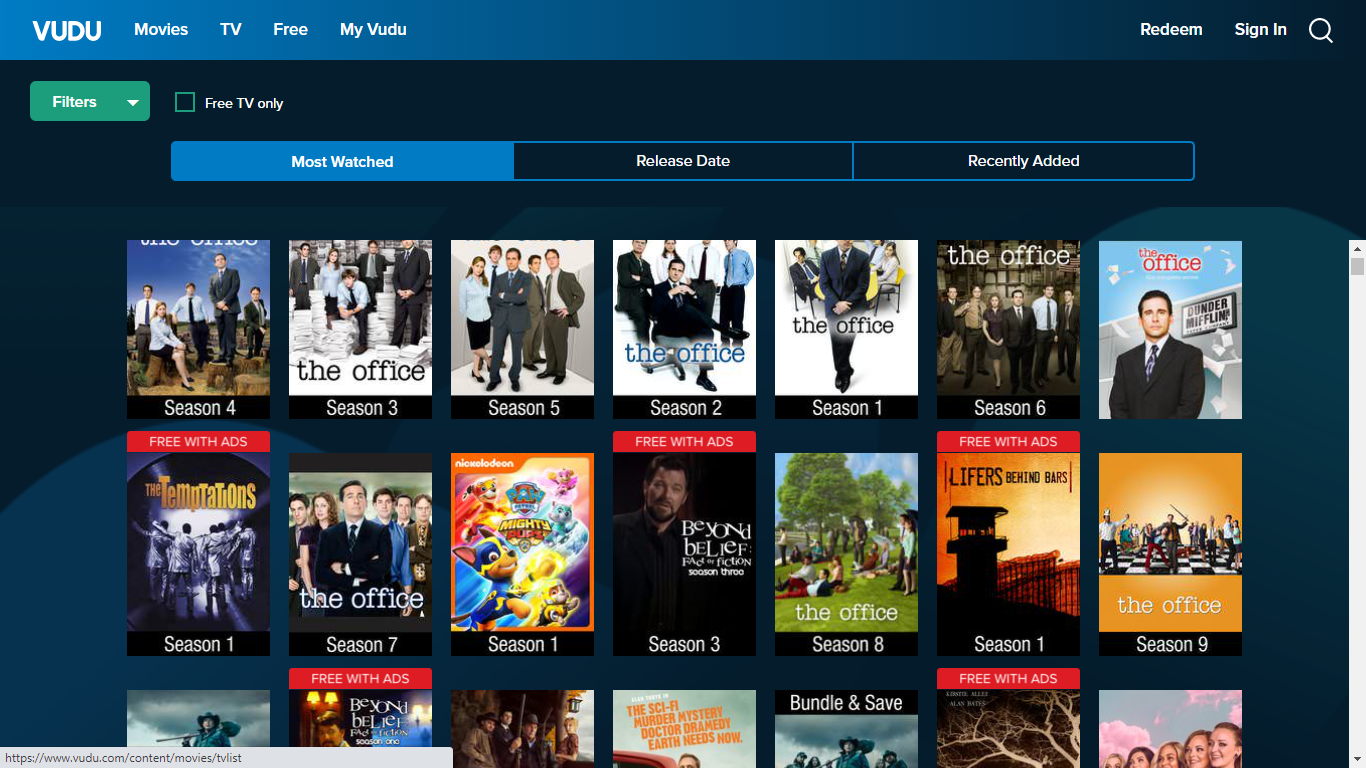 Apart from its free services, Vudu also enables you to rent out a TV Show or movie because, many times, you may be unable to find your favorite content for free. But if you aren't using Vudu with a pre-decided list of TV shows, then, of course, Vudu may meet your expectations.
The free contents at Vudu aren't less than its premium content. That's why it is a good option. Without sign-up, you can start watching amazing movies, TV shows, and much more at Vudu for free.
Those users who want to experience old-time movies, Classic TV shows can choose Retrovision. After all, few things do never grow old with time. If those old movies' dialogues and thrilling moments still entertain you, then, of course, you must watch them. And to fulfill your desire, Retrovision comes up as the best alternative.
Since Retrovisioin is a public domain, that's why you can not just stream your favorite TV shows on it but download them free of cost without breaking the laws. The smooth navigation and attractive interface are some additional notable features of Retrovision.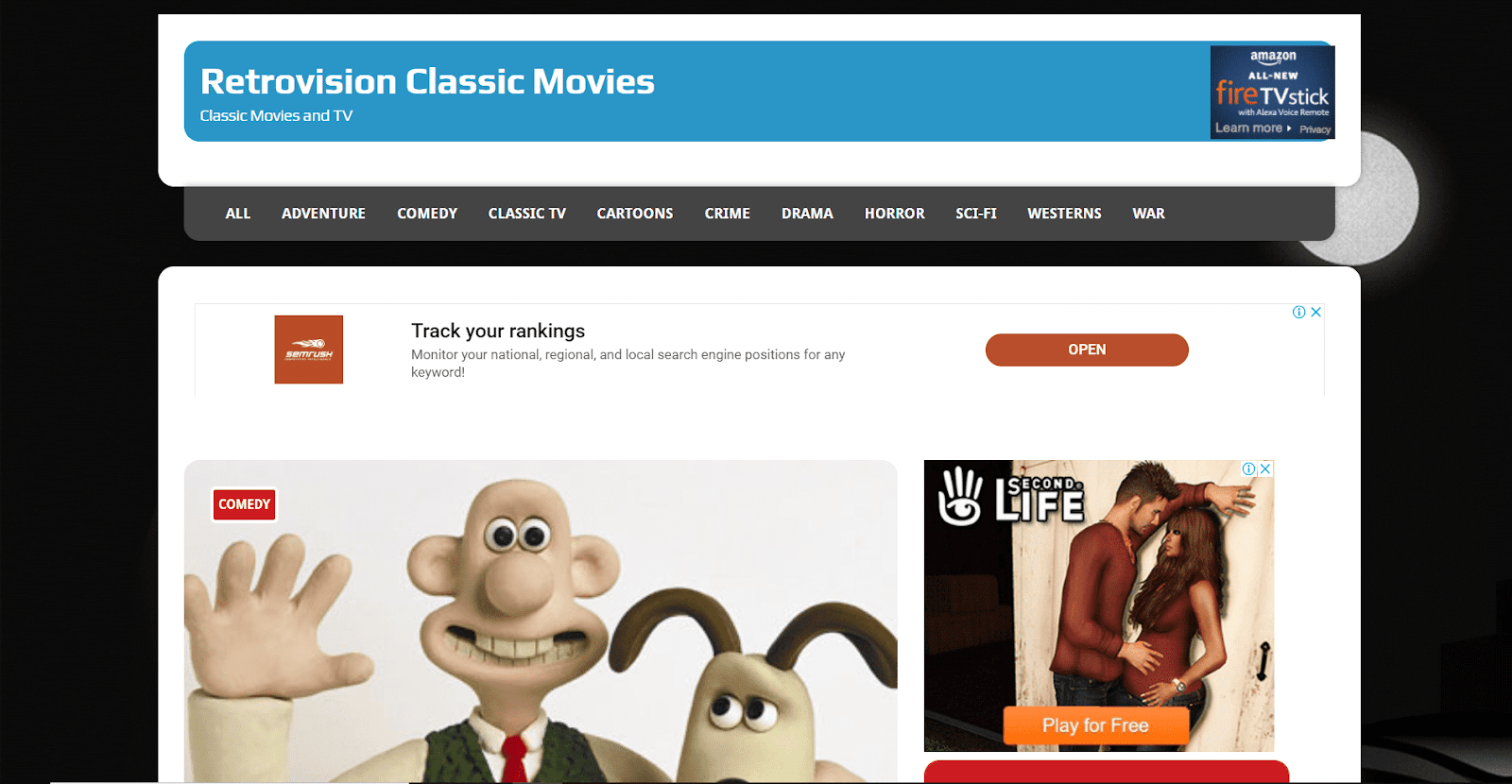 Even though you want to watch cartoons from the old days, find them all in one place. From superman to Popeye, you watch all types of content on Retrovision free of cost without being stressed about sign-ups.
Moreover, you can also use the Retrovision mobile app if you hardly get time to watch your favorite shows on TV. Just install the retrovision app on your mobile and start streaming where you are!
Share TV isn't a streaming website, but it works like a search engine to find free live TV shows. Although, such websites assist you a lot when a sudden urge to watch a much-awaited show rises in your mind. ShareTV brings you varying types of free shows available online related to your searches.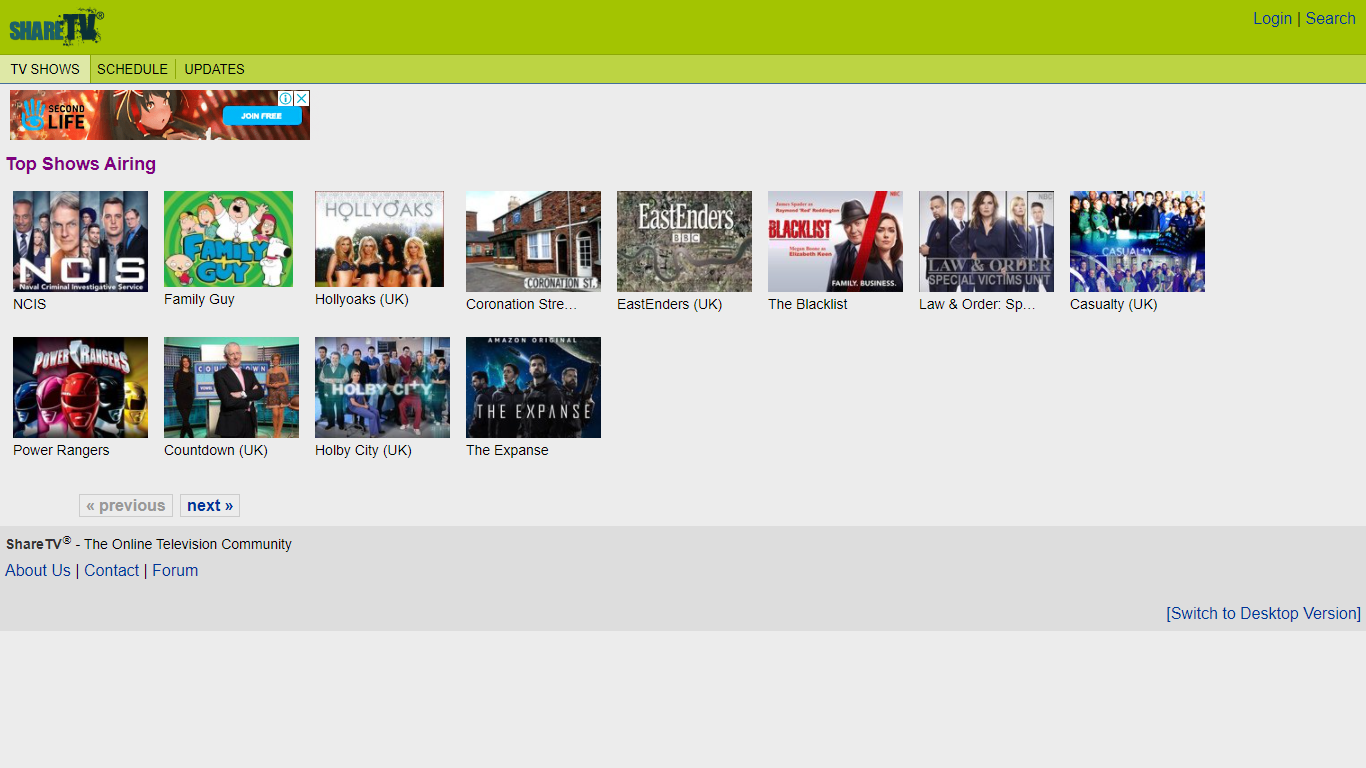 Luckily if shareTV got your title, you would be able to see your most-liked TV shows right on the screen. Though users often don't find the related content on this free website, you can still give it a try. The interface of the website is easy to use.
Categories and filters are some additional helpful features that bring easiness in finding the favorite shows online.  Altogether, it can be a great alternative to free streaming websites.
Stream your most-admired content at CW network for free. However, this online platform is famous among users who often aspire to watch some fantasy or supernatural drama. It's no surprise that you will love this website if you have been looking for such a platform for a long time.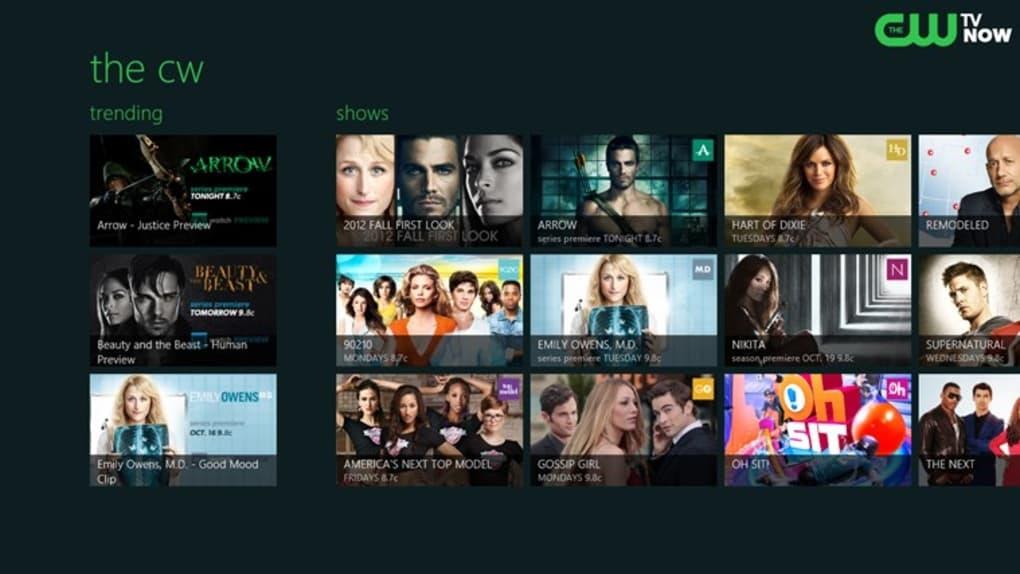 Everything about CW TV is good except for one thing. The CW network contents are limited, which also turns out to be a significant drawback of CW Tv. The video quality is good, and the user-interface is also attractive.
Moreover, users also claim that the CW network runs faster as compared to other platforms.  No sign-up and subscriptions are required to stream movies and TV shows and CW Tv.
With thousands of movies and TV shows, Vumoo is one of the oldest yet outstanding streaming platforms.  Even though the site features all kinds of movies and TV shows on its streaming platform, still it isn't so famous due to the lack of features.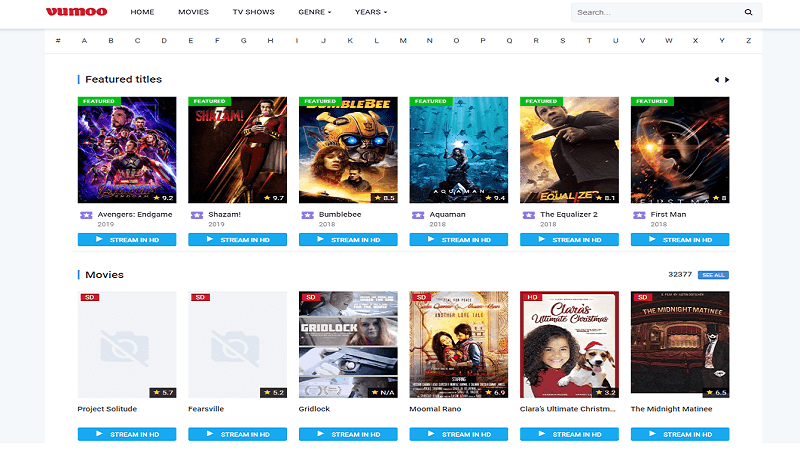 You don't get categories to shortlist your favorite movies. Filter option is also absent, which often confuses users while searching for the best movie or tv shows.  You can't find country-specific or genre-specific content and which is a major drawback.
Just a search box has been provided in the top section of the website for searching. That means you will have to visit the platform with a pre-decided show in your mind. Else you may only waste time on Vumoo.
In the end, you get Online Free Films- a free website that redirects you to the 123movies page where you watch movies and a few popular TV series. Without any need for sign-up and subscription, you can watch some of the most adventurous, thrilling, yet exciting movies and TV shows at the online free films.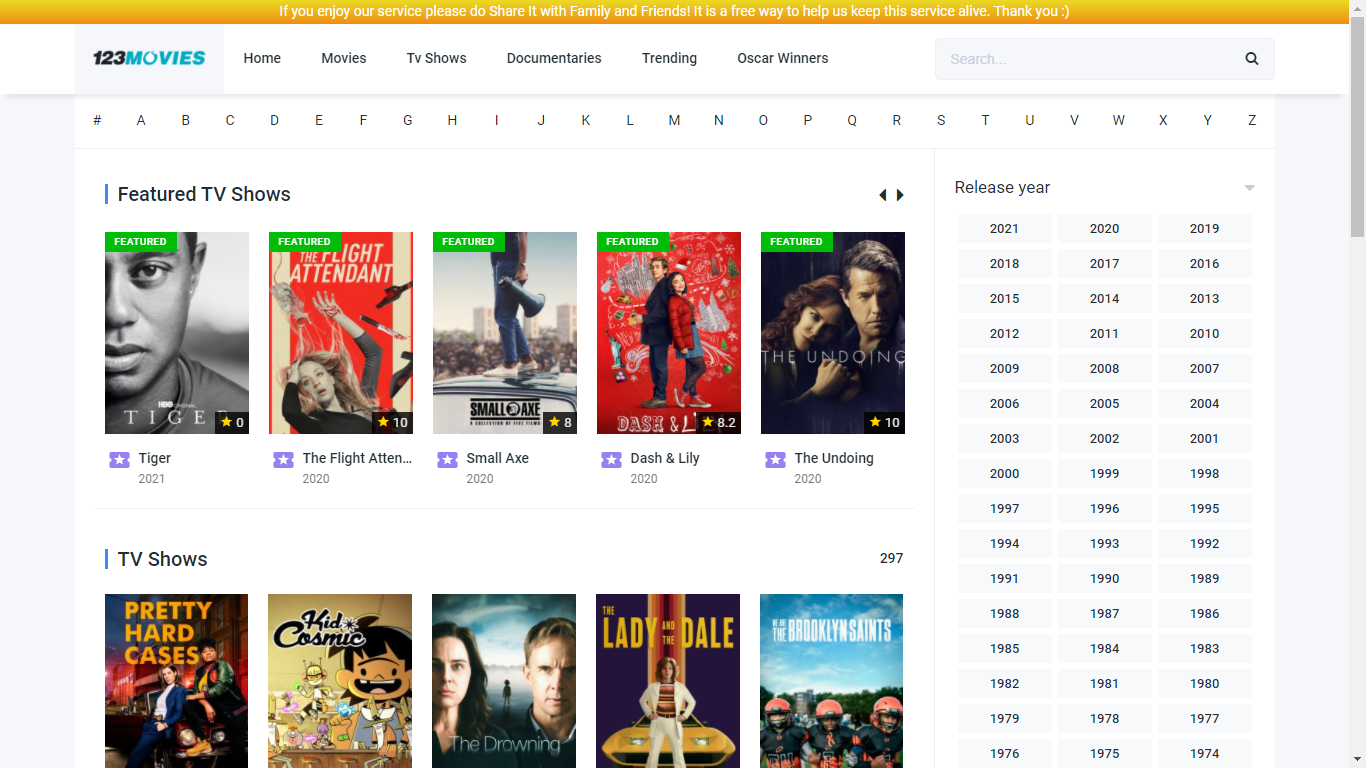 You may be surprised to see that this free alternative offers you the latest films and tv shows. But this web-based platform has a little shortcoming as many times you may experience problems related to services. Though more than TV shows, the Online Free Films is famous for its outstanding list of movies.
Conclusion:
Now no need to miss out on your all-time favorite TV shows and movies. In the article, we have shortlisted some fantastic websites that will keep you busy in your boring times. All these websites are free of cost and work without any sign-ups or subscriptions. So be ready to get hooked on that beloved show using these popular streaming websites.