Before the Sundance Film Festival began, there were numerous rumors as to what the Sundance secret screener could be, with quite a few thinking it was Jordan Peele's sophomore film Us. Leave it to Dwayne "The Rock" Johnson to spoil the surprise on his Twitter page, by airing out that Fighting with My Family was heading to Sundance. Despite the secret getting out ahead of the festival, Fighting with my Family had a sold-out premiere, with the cast watching along in the audience.
Fighting with My Family directed by Stephen Merchant is based on the 2012 documentary The Wrestlers: Fighting with My Family, featuring the rise of WWE superstar Saraya "Paige" Bevis, and her bizarre family. Starring: Florence Pugh, Lena Headey, Nick Frost, Jack Lowden, Vince Vaughn, and Dwayne Johnson as himself. Wrestling fans and moviegoers will be happy to know that Fighting with My Family is a spectacular blockbuster, an accurate biography, and even nails the likeness of the actual people the cast portrays.
What makes Fighting with My Family such an entertaining watch is the Bevis family, a family of professional wrestlers who could easily be described as fanatics. To us wrestling is entertainment, but to them, it is a way of life and cherished tradition. Of course, they realize that they are putting on a show, but the actual moves and stuntwork are truly real, and if done improperly could be fatal.  As you can imagine once Saraya (Pugh) and her brother Zak (Lowden) get the chance to audition to be in the WWE they enthusiastically take the offer. Unfortunately, when the recruiter Hutch (Vaughn) Morgan only picks Saraya to move forward in the process, a rift between siblings emerges.
This rift serves as the main plot of the film, as Saraya struggles to make the cut, and Jack losing himself now that he can't be a WWE wrestler. There is a fair bit of comedy by their father Patrick Bevis (Frost) and his wife Julia Hamer-Bevis (Headey) that makes Fighting with My Family feel like a dramedy, especially when Dwayne Johnson or other WWE stars make appearances.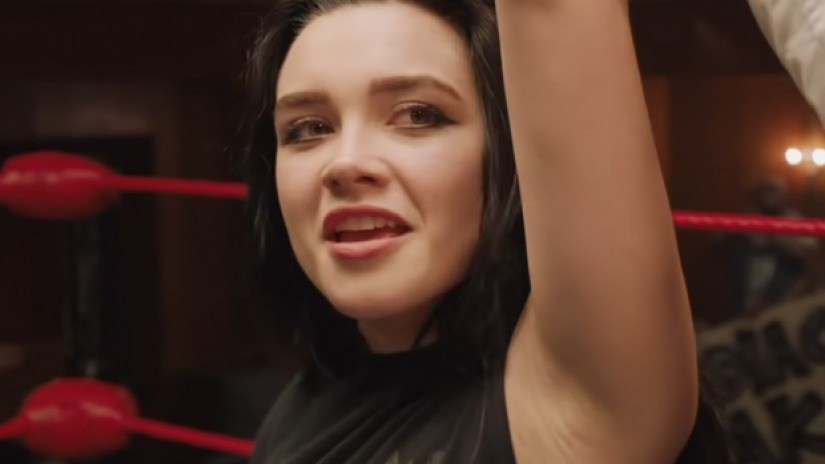 Furthermore, the true star of the film is none other than Pugh, as she plays a convincing role as a foul mouth wrestler with heart. Her performance is powerful, emotionally complex, and is physically demanding, unlike any role she has had before.  It is hard to believe that this is the same actress from Little Drummer Girl and Lady Macbeth. People will see this film for Johnson's involvement, but will quickly realize Pugh is the main attraction.
Wrestling fan or not, Fighting with my Family is a genuine awesome blockbuster filled with heart and great performances that will make you cheer and applaud before it is all said and done.
Fighting with My family has a limited release February 14th before opening nationwide February 22nd.
To help us continue to create content, please consider supporting us on Patreon:https://www.patreon.com/filmera.